DMV #NaturalHair Meetup *Pics*
Guys we rocked it out! The meetup was awesome! I'm so thankful for all that showed up and showed out. Curlynugrowth and Southerngryl were the the backbone of my event and I couldn't have done it without them. I would also like to thank Natural Nounou for all her help with the giveaways.
Raffi and Tiffany were the premiere photographers for the event. They did an awesome job at capturing the ladies at their best!
I can't forget Coretta who gave away not only one but two Stella & Dot pieces!
Everyone who came pretty much left with something and who doesn't like free stuff?!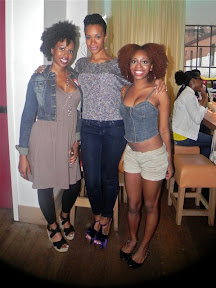 I was so happy to meet so many of my Twitter peeps and supporters.
I hope you guys had a blast. I know I did and I can't wait to see you at the next DMV natural hair meetup!
Check out more pics from the event
here: