Update on LaJay
Woo chile! It was insane the amount of attention I was getting while wearing that wig. LOL I definitely knew it was big when my coworkers started commenting. This one guy said "you've gone full Angela Davis on us!" I couldn't help but laugh. Another lady stopped me and said "ooh girl you are working that hair!"
Mind you I was already self conscious that it was a wig, AND this damn hair had the nerve to expand overnight!
Remember my cute little hack job?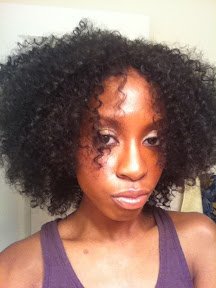 Okay well this is what it looked like the next morning...
At work...
It was so big and I felt so ridiculous lol.
I cut a little more but I'm still not done tweaking it.
I can tell you one thing: I will NOT be wearing those bangs. They broke me out ;(
Here's LaJay today. I literally just slapped her on for the purpose of this blog lol
I'm in love with it all over again. It's shorter than my real hair but I think the cut is so flattering!
Oh and I "trimmed" more like cut my hair yesterday. Video coming soon!!